STATEMENT
Women's Day Statement
Published March 8th, 2021
On this International Women's Day, OBDC stands with our Indigenous sisters and recognizes the continued physical and structural violence perpetrated against them by police forces and government policies. When the Government of Canada released the
Final Report of the National Inquiry into Missing and Murdered Indigenous Women and Girls
, the commissioners concluded that Indigenous women and girls are victims of genocide. Nearly two years have passed since the report was published and yet the federal government continues delaying the release of the promised action plan. We join the call for the release of an action plan that details how elected representatives intend to address the report's findings.
OBDC stands with and recognizes our lesbian, bisexual, queer, trans and non-binary sisters who are more likely than their heterosexual/ cisgender counterparts to be violently victimized in their lifetime yet do not report these crimes for fear of the police. We especially support our Trans sisters who face transmisogyny and continue to fight to have their womanhood recognized in a society that would deny them their identity and strip them of it at every interaction.
OBDC stands with and recognizes our sisters living with disabilities who are treated as an afterthought. We stand with our sisters who have been tasked with making a home for themselves in a world that refuses to adjust and recognize their humanity.
OBDC recognizes our Black sisters who shoulder the burden of Anti- Black racism, sexism and misogynoir. We stand with the young girls who are learning to love themselves in a society that would have them believe they aren't worth loving; but we all know how beautiful and dope we are. We are EXCELLENCE and then some.
We recognize the mothers/caregivers who have buried their children/dependents who have been killed and tortured by Canadian Police and carceral system and must wake up each day knowing that justice will not be served.
OBDC recognizes our Muslim sisters who are forced to watch their agency placed upon a political chopping block so that their identity can be ripped apart, dissected, analyzed, discussed and leveraged by silencers who insist they know what's best.
OBDC recognizes our migrant sisters who leave behind their children as they embark on a journey in search of a better life in Canada. We stand with the sisters trapped in predatory situations who silently watch the fruits of their labour bestowed upon others and realize that she who sows the seed is not she who reaps the harvest.
Finally, OBDC stands with our sisters whose identity contains multitudes that cannot be simplified, pinned down, or put into one box. From our Black trans incarcerated sisters to our Muslim sisters who are queer, we support you at whichever intersection it is that you exist; simply because you exist you are to beautiful and valid.
Early in March 2020, economist and Atkinson Fellow on the Future of Workers, Armine Yalnizyan had the foresight to recognize that Canadian women would bear the economic brunt of COVID-19. Yalnizyan coined the term "she-cession" to describe the disproportionate economic impact the pandemic would have on women and cautioned that a successful economic recovery would be contingent on providing supports to women as they re-enter the workforce. In recognition of this disproportionate impact, the Government of Canada has declared the theme of this International Women's Day to be "
#FeministRecovery
".
We believe that a feminist recovery is like most feminist dichotomy. It erases the history and suffering of BIPOC women and Gender non conforming folks and limits our struggle to a single moment. We caution that performative lip-service allyship is insufficient and falls short of meeting even the lowest bar of progress. The pandemic's disproportionate impact on women and BIPOC communities is not an isolated manifestation. It is the inescapable conclusion of pre-existing inequities embedded into government policies. Women and BIPOC persons did not request another trendy, hashtagged political communication. What we have asked for are policies that support the wellbeing and growth of our communities; policies that are just as concrete and just as intentional as the ones that cause harm. On this International Women's Day, we ask that elected officials consider doing more than hashtagging their recognition of the fatal implications of policies they have the power to change. Be about that action.
We honour the richness of the diverse histories and experiences that define womanhood. We acknowledge the intersecting injustices that have been inflicted on women around the globe and within Canada. Nonetheless, womanhood is more than anguish. It is more than suffering, more than mere survival and more than constantly chafing against the shackles that restrain and constrain. For all the injustices, for all the "-isms" and "-phobias" inflicted upon our sisters, we have time and again bore witness to the unyielding, joyful, persistent spirit of womanhood. In solidarity, in Sisterhood and in joy we continue on with the work.
Happy International Women's Day!
The Ottawa Black Diaspora Coalition
"And it is upon our ability to look honestly upon our differences, to see them as creative rather than divisive, that our future success may lie." - Audre Lorde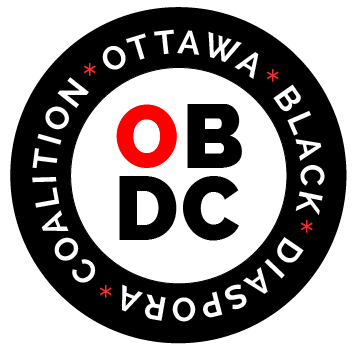 All rights reserved (c)